The trading password on KuCoin is a newly added security mechanism on platform 2.0. It is another six-digit password different from Google 2fa code and is used for essential operations such as trading, withdrawal, and API creation.
This article will walk you through a detailed process to reset the trading password on KuCoin.
Step 1: Enter the "Security Settings-Transaction Password" page, and click "Forget Trading Password."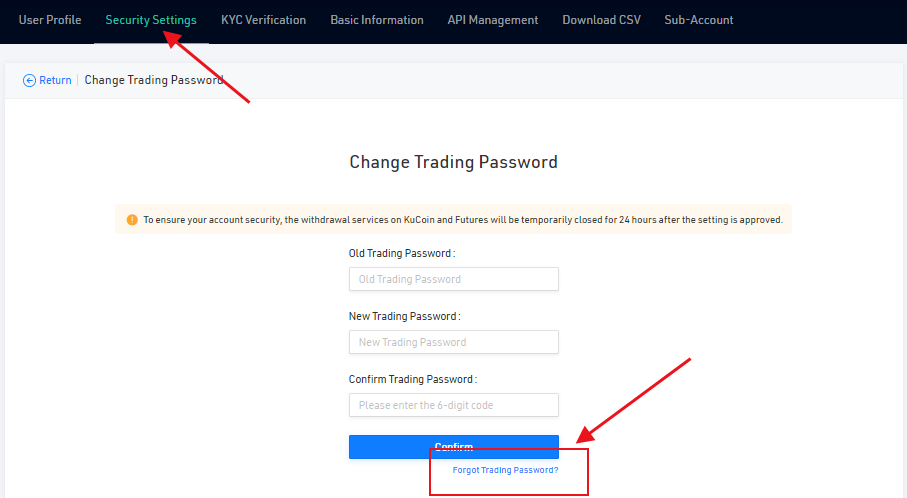 Step 2: Complete Security Verification.

Step 3. Complete Identity Verification (Please rest assured that it's not KYC verification, and we will not leak your information).
Note:
When you are doing identity verification, please make sure that you upload a photograph with your identity documents and a note marked with today's 'Dynamic code,' 'Today's Date,' and 'Signature' hold by hand so that your application of self-reset the trading password can pass.
Please be aware that your application will be processed within 1-3 working days, and you will receive an email informing you of the result. At the same time, to ensure your account security, the withdrawal services on KuCoin and KuCoin Futures and the P2P Fiat Trade selling service will be temporarily closed for 24 hours after the setting is approved.
We hope this article has been helpful. If you have any other questions, please reach out to our 24/7 customer support via online chat or submit a ticket.
Happy trading on KuCoin!