What is withdrawal: Withdrawal, which means transfer tokens from KuCoin to other platforms, as the sending side--this transaction is a withdrawal from KuCoin while it is a deposit for the receiving platform. For example, you can withdraw BTC from KuCoin to other BTC wallets on other platforms, but you can't transfer money to other platforms from KuCoin directly.
Holding account: We now support withdrawing funds from Main/Futures(Just for several tokens for now) account directly( Click here to know each account's function), so please make sure to hold your funds in the Main/Futures account, you need to transfer funds to the Main account via transfer function if you're currently holding funds in other KuCoin accounts. You can click here to enter the KuCoin withdrawal page.
Get your account settings prepared: To make a withdrawal, you need to enable "Phone Number+Trading Password" or "Email+Google 2fa+Trading Password", all can be set/reset from the account security settings page.
Part 1. How to make a Withdrawal on KuCoin?
Step 1:
Web: Log in to your KuCoin account, then find the withdrawal page. You may type the token name in the search box, or scroll down and click on the token you want to withdraw.
App: Log in to your KuCoin account, then click "Assets" - "Withdraw" to enter the withdrawal page.
Step 2:
Once you have selected the correct token, you will need to add the wallet address (composed of remark name and address), select the chain, and enter the amount. The Remark is optional. Then click "Confirm" to carry out the withdrawal.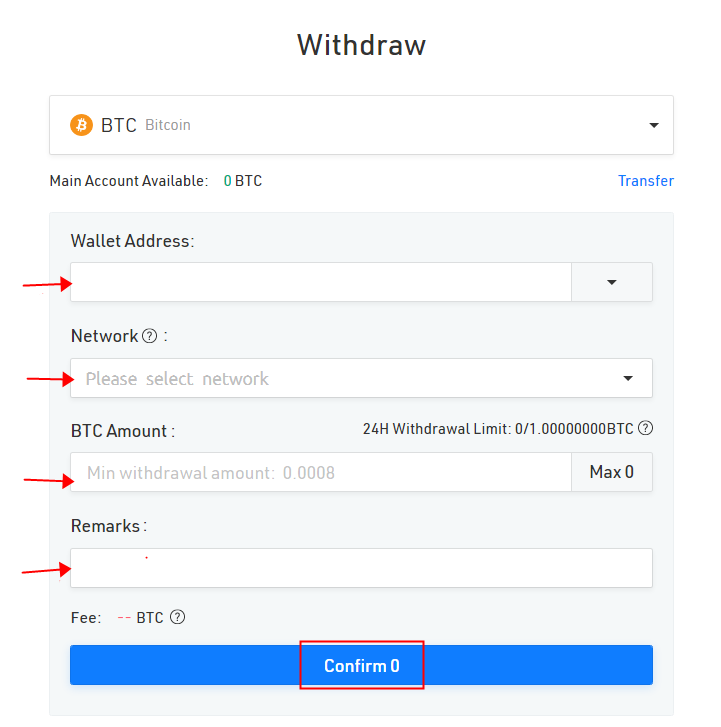 * Kind reminder:
1. For tokens such as USDT that support different public chains, the system will identify the public chain automatically according to the address input.
2. If the balance is insufficient when conducting a withdrawal, it's likely that your assets are stored in the trading account. Please transfer the assets to the main account first.
3. If the address shows that "Contain invalid or sensitive information" or is incorrect, please double-check the withdrawal address or contact online support for further check. For some tokens, we just support transferring them via a specific mainnet chain instead of ERC20 or BEP20 chain, such as DOCK, XMR, etc. Please do not transfer tokens via unsupported chains or addresses.
4. You can check the mini withdrawal amount as well as the withdrawal fee on the withdrawal page.
Step 3:
Input your trading password> E-mail verification code> Google 2FA code or SMS verification code to complete all the withdrawal steps.
* If you meet problems in verifying the trading password, email code, or Google 2FA/SMS code, please refer to the following links for further help:
Notes for Withdrawals
1. We will process your withdrawal within 30 minutes. To enhance the security of your assets, if your withdrawal amount is larger than a certain amount, we have to manually process your request. It depends on the blockchain when the assets will finally be transferred to your receiving wallet.

2. Please double-check your withdrawal address and token type. If the withdrawal succeeds at KuCoin, it is no longer able to be canceled.

3. Different tokens charge different withdrawal fees. You can check the fee amount on the withdrawal page by searching that token after logging in.

4. KuCoin is a digital currency trading platform, and we don't support fiat money withdrawal and trading. If you have any questions, please contact online support for further help.
How to Add Usual Address?
We provide the service of adding usual addresses for users. You can choose to add often-used addresses by inputting the trading password> E-mail verification code> Google 2FA code or SMS verification code to pass these complex withdrawal processes each time.
How to View Withdrawal Records?
Log in to your KuCoin account. Find the withdrawal page. Select the token that you would like to see the withdrawal history for. Please see above for how to select tokens. Scroll down the page and view your withdrawal records.
Part 2. How to transfer between internal accounts on KuCoin?
KuCoin supports internal transfers. Customers can transfer tokens of the same type directly from account A to account B of KuCoin. The operation process is as follows:
1. Log in to www.kucoin.com, find the withdrawal page. Select the token you want to transfer.
2. Internal transfers are free of fee and arrive quickly. For example, if you want to transfer KCS between KuCoin accounts, enter the KCS wallet address of KuCoin directly. The system will automatically identify the address that belongs to KuCoin and check "Internal transfer" by default. If you want to transfer by the way which can be on the blockchain, then just cancel the "Internal transfer" option directly.